SKYRUN 2021 Fun and Charity Virtual Run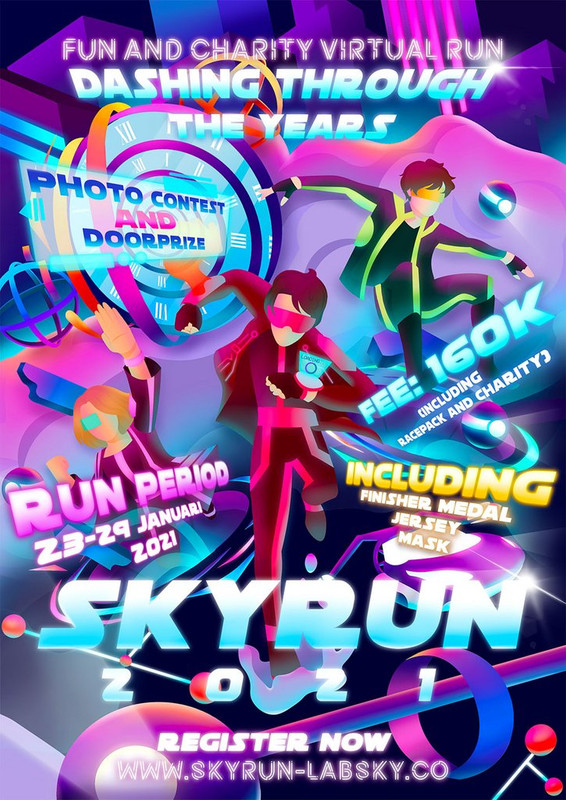 Greetings Runners! 🏃‍♀️🏃‍♂️
Looking for a Fun Virtual Run, yet also contributes to the charity? SKYRUN 2021 is the best solution for you! While having a Fun Photo Contest and million rupiah door prizes, you are also part of the SKYRUN 2021 donation program for the Covid-19 impact.
Run Period: 23-29 January 2021
Registration Fee: IDR160.000, including race pack and 15% charity (Finisher Medal, Jersey, and Mask)
The registration period ends on the 13th of January 2021. So wait no more! Join our first-ever virtual SKYRUN now! Head on to our website www.skyrun.labsky.com to register yourself.
Put on your shoes, wear your mask, and see you at SKYRUN 2021👋 #DashingThroughTheYears
For more information:
Callysta Khansa (08999511010)
Line: ista1010
IG: @skyrun2021
Kategori jarak: 5K
Informasi lomba: www.skyrun-labsky.com
Registrasi lomba online: www.skyrun-labsky.com
Kontak person registrasi lomba: Callysta Khansa (08999511010)
Jika ada informasi yang tidak akurat atau perubahan lomba mohon untuk menginformasikan kepada kami.