Run IT 2020
Catatan: Lomba ini dijadwalkan ulang terkait wabah COVID-19 (corona virus)

After a long consideration, we have decided that due to the increasing number of COVID-19 cases, RUN IT 2020 by Prasmul Olympics will be postponed.

The health and well-being of our runners, the RUN IT team as well as all of the external parties involved in preparing this event remains our top priority.

We will be posting more information regarding the exact date of RUN IT 2020 in near future.

We apologize for any inconvenience caused and we wish everyone to take the utmost care of your health.

Thank you for your understanding.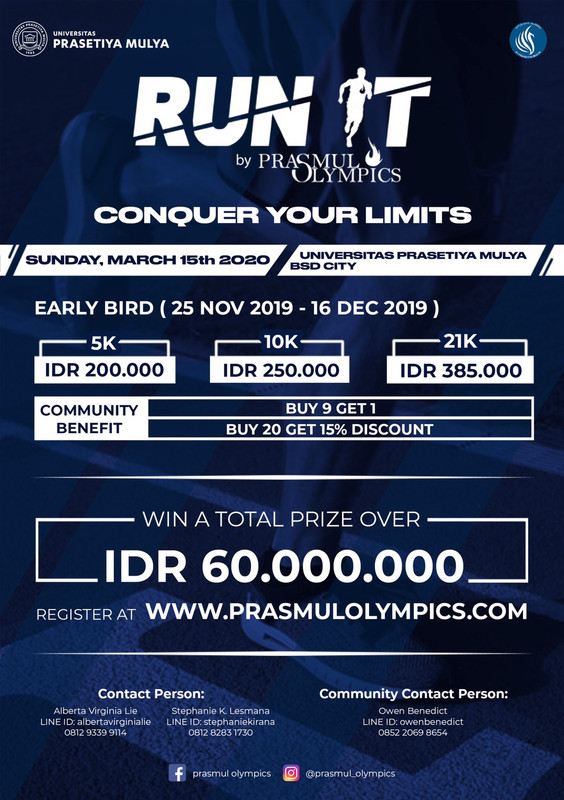 RUN IT is an annual running competition presented by Prasmul Olympics that brings you the enthusiasm and spirit of remarkable sport experience.
Bringing a series of 5, 10, and 21 kilometers race, RUN IT would like you to embrace your potential, challenge you to get out of your comfort zone and show the best of you in this race.

Location: Universitas Prasetiya Mulya, BSD City, Tangerang
Date: March, 2020
CP: 081282831730 (Stephanie)
Kategori jarak: 5K, 10K, 21K
Informasi lomba: www.prasmulolympics.com
Registrasi lomba online: www.prasmulolympics.com
Kontak person registrasi lomba: 081282831730
Jika ada informasi yang tidak akurat atau perubahan lomba mohon untuk menginformasikan kepada kami.