MAG RUN KIDS 2019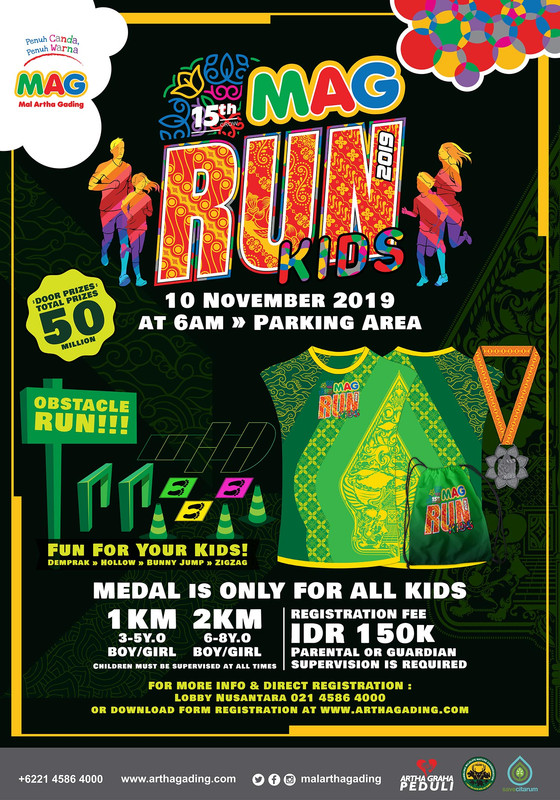 Registration for MAG Run Kids 2019 is NOW OPEN!
.
IDR 150.000, - for Kids category

The race will be held on 10th November 2019
2 KM (6-8 y.o Kids); 1KM (3-5 y.o Kids) track around Mal Artha Gading.
.
And All Kids will get the Medal !
All the runners also get a chance to win the Doorprize
with a total worth about 35 Millions Rupiah!
.
.
Race pack that contains: Jersey, BIB Sticker, Runner,
Mini Map, and Door Prize Coupon will be ready in
1st-4th November 2019 at the Information Counter,
Nusatara Lobby, Ground Floor Mal Artha Gading..
.
So, let's register now!
.
For more info & Direct Registration:
Information Counter, Nusantara Lobby, Ground floor,
Mal Artha Gading (021 45864000)
.
Or download the registration form from our http://arthagading.com/ / just hit the link on our Instagram bio -> Click the #MAGRun2019 Banner
and download the form.
.
.
Green for the Kids, and Yellow for adult..Fill the form -> Scan -> attach it to your email and send it to [email protected] the proof of payment for your registration 😊.
,
Bank Mandiri |A/n Swadaya panduartha 1250004706792).
Kategori jarak: 2K, 5K
Informasi lomba: http://arthagading.com/event/
Registrasi lomba online: https://drive.google.com/drive/folders/1YmUwxGPOerVpl0dB1vAv4Ty2s_YZqqz8
Registrasi lomba offline: Mal Artha Gading - Jalan Artha Gading Selatan No. 1
Kontak person registrasi lomba: 081905286208
Jika ada informasi yang tidak akurat atau perubahan lomba mohon untuk menginformasikan kepada kami.