Iconic Virtual Run - Batch 10 (Year of Fortune)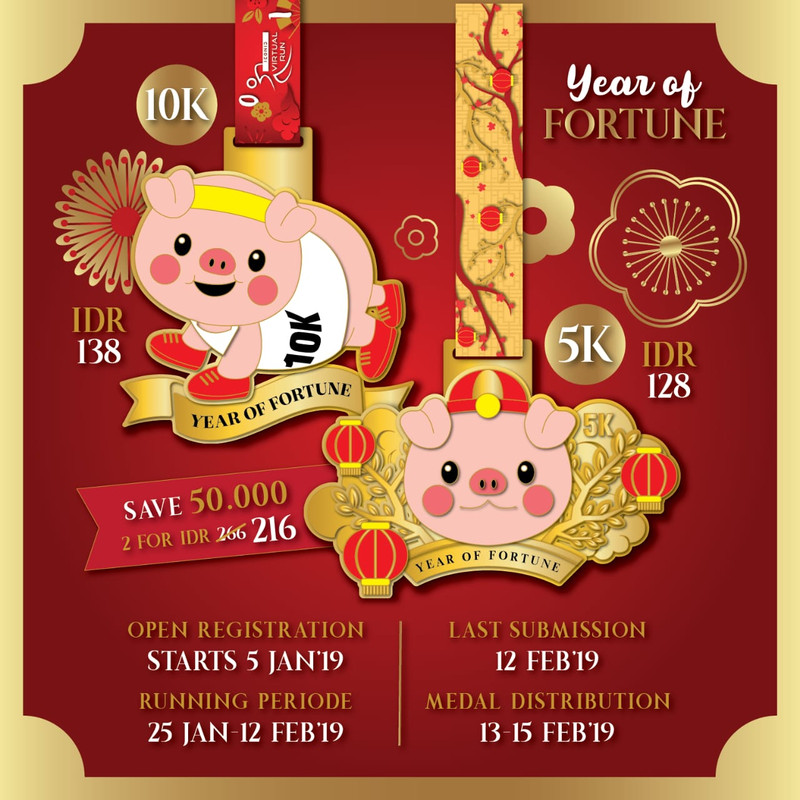 ICONIC VIRTUAL RUN batch 10 (Year of Fortune)
Happy Chinese New Year!
Let's celebrate a year of fortune, prosperity and good health in the year of the Pig in 2019.
-
Tahun 2019 ini merupakan tahun Babi Tanah menurut astrologi China.
Babi melambangkan KEJUJURAN, KESABARAN, KETULUSAN dan KEMAKMURAN yang luar biasa.
Shio Babi mempunyai sifat menikmati hidup dan suka menghibur. Mereka pandai menyenangkan orang lain dan suka membantu orang lain, tapi kadang-kadang mereka memberi terlalu banyak karena kepolosannya.
-
Rayakan tahun baru pergantian shio mu dengan aksi sehat sekaligus menandai moment berlarimu dengan medali YEAR OF FORTUNE!
-
So, dapatkan medali Babi superrrr imut bingittsss ini yuk guys, ada yang babi pake cheongsham alias topi khas imlek (5K) atau babi imutt yang lagi siap2 marathon nie (10K), lucuk yak! Yuk.. yuk.. buruan contact mimin hotline
-
HTM :
Pig Imlek series (5K)
IDR 128.000 (Exclude delivery fee)
Pig Marathoners series (10 K)
IDR 138.000 (Exclude delivery fee)
-
HTM Packet :
Pig 5K + Pig 10K (15K)
IDR 216.000 SAVE 50.000
-
Detail ICONIC VIRTUAL RUN batch 10
(Year of Fortune) :
-
✔Registrasi : Mulai 05 Jan 2019
✔Race Kategori : 5K & 10K
✔Tanggal race : 25 Jan - 12 Feb 2019
✔Max Submit : 12 Feb 2019
✔Delivery Medal : 13-15 Feb 2019
-
Informasi ICONIC VIRTUAL RUN :
Silakan hubungi hotline kami untuk melakukan registrasi.
WA : 0812. 34266. 638
LINE : @theiconiceo.id (use @)
IG : @theiconic.eo
-
"Wish you Happiness and Prosperity in the coming year!".
-
Regards
The Iconic Event Organizer.
Kategori jarak: 5K,10K
Kontak person registrasi lomba: LALA (08123426638)
Jika ada informasi yang tidak akurat atau perubahan lomba mohon untuk menginformasikan kepada kami.