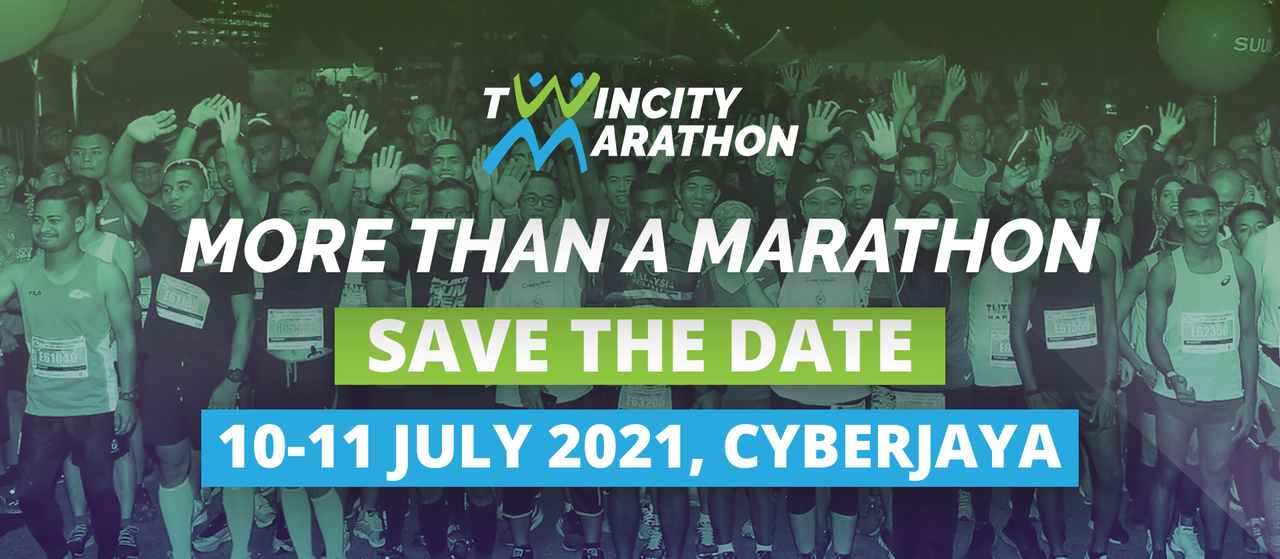 The 7th edition of TWINCITY MARATHON will return to Cyberjaya and Putrajaya on 10th – 11th July 2021 with a revamped logo, a new website and a fresh outlook for the future. The event's owner, 10 Senses, has partnered with renowned event specialist, Fresh Events, to help usher TWINCITY MARATHON into a new era.
Mohd Bukhari Ismail, Managing Director of 10 Senses, enthused, "Nationally, TWINCITY MARATHON has become synonymous with delivering a high-quality event experience to runners, and we are very excited to welcome our community back to Cyberjaya for another exciting race this July. We have invested significant time and resources during the past 6 months looking at how we can improve our event offering to appeal to a wider audience. With the new partnership with the experienced team from Fresh Events, we believe TWINCITY MARATHON is now perfectly positioned to become a top tier event in Malaysia and the region".
The 2021 event will take place over an entire weekend, with a focus on creating a carnival atmosphere for runners to enjoy with their friends and families. The new tagline 'More than a Marathon' and the hashtag #StrideTogether signify the event's ambition to provide an all-encompassing social experience to match the high-quality race experience that runners have always enjoyed at TWINCITY MARATHON.
"We're privileged and proud to be working on this next chapter of the TWINCITY MARATHON," says Jeff Ross, General Manager of Fresh Events. "Our mission has always been to encourage people to lead more active lifestyles as a way of improving their health and wellbeing. Our involvement with Mohd Bukhari and his team allows us to continue this vision and we are excited to help take TWINCITY MARATHON to new heights," concludes Ross.
The revamped TWINCITY MARATHON brand is accompanied by a new website and refreshed social media handles. Those wishing to participate in TWINCITY MARATHON are encouraged to visit www.twincitymarathon.com, and to follow www.facebook.com/twincitymarathon and www.instagram.com/twincitycyberjayamarathon.
There are multiple race categories to suit all ages and running abilities: 1KM and 3KM Kids Dash for the young runners, the 5KM Fun Run, the 12KM Race, the 21KM (Half Marathon) and the 42KM (Marathon).
Runner's entitlements include a stylish high-quality micro-dry Event T-shirt, a Finisher's T-shirt (for 42KM and 21KM), a bespoke Finisher's medal, a Finisher's E-certificate and a wide range of refreshments.
Super-Early Bird registration launches on 6th January 2021, with pricing ranging between MYR 20 and MYR 85, and bundle packages available for participants wishing to join multiple races.
For more information, please visit www.twincitymarathon.com.
Kontributor: Tim AyoLariin