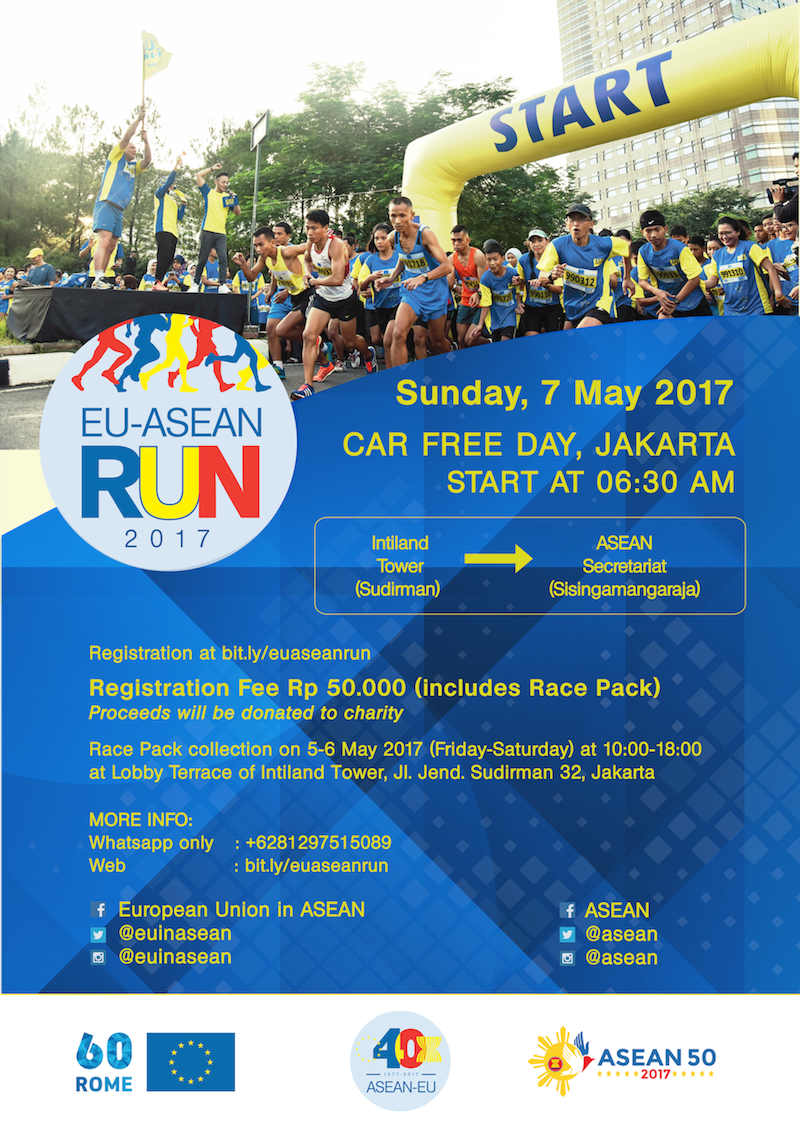 EU-ASEAN Run
Registration is now open!
On 7 May 2017 in Jakarta, the EU-ASEAN Run will be organised jointly by the EU Mission to ASEAN, the ASEAN Secretariat and the ASEAN Women's Circle. The event will celebrate three special occasions this year: the 40th Anniversary of EU-ASEAN Dialogue Relations, the 50th Anniversary of the establishment of ASEAN and the 60th Anniversary of the Treaties of Rome and the creation of the EU.
What to expect:
Date/ Time of the event: Sunday, 7 May 2017, starting at 06:30 am
Starting line: Intiland Tower (office building of the EU Mission to ASEAN and EU Delegation to Indonesia), Jalan Jend. Sudirman 32, Jakarta
Finish line: ASEAN Secretariat, Jalan Sisingamangaraja 70A, Jakarta
Race distance: 7km
Registration fee: IDR 50,000
Online registration & payment: 20 April until 3 May 2017
Race pack collection: 5-6 May 2017 at 10:00-18:00 at lobby of Intiland Tower
More info (WhatsApp only): +62 812 9751 5089.
Informasi & Registasi lomba online: http://bit.ly/euaseanrun
Follow us on social media:
Facebook: European Union in ASEAN
Instagram: @EUinASEAN
Twitter: @EUinASEAN
Kategori jarak: 7K
Informasi lomba: http://bit.ly/euaseanrun
Registasi lomba online: http://bit.ly/euaseanrun
Kontak person registrasi lomba: WhatsApp only (+6281297515089)