AIRUN 2019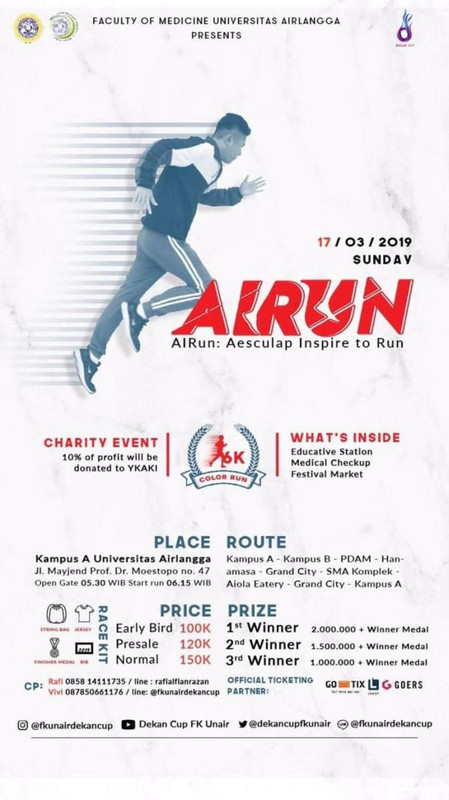 !!! FK UNAIR DEKAN CUP PRESENTS !!!
🔥🔥 AIRUN: Aesculap Inspire to Run 🔥🔥
Get your running shoes on and sign up to our 6K fun run! Take your time to channel your endorphins out to our charity event! ✨
— Did we say charity? —
Indeed, good sir! 🥂
10% of our profit for this spectacular event will be donated to Yayasan Kasih Anak Kanker Indonesia! 🙏🏼
You'll be doing good and look more of a winner with that healthy, glowing smile ☺️
🕒: March 17th, 2019 (Open Gate 05:30 a.m.)
🏠: Campus A, Airlangga University, Jl. Mayjend Prof. Dr. Moestopo No. 47 Surabaya
You'll also get:
🏅Running Kit (MEDAL, BAG, BIB and THE RACE JERSEY)
🏅 Refreshments
🏅 Free Medical Check-Up
🏅 Entry Pass to our Food Festival and Bazaar
SO WHAT ARE YOU WAITING FOR?
✨GET YOUR SWEAT ON! ✨
CP :
- Instagram : @fkunairdekancup
- WA : 087850661176 (Vivi)
Kategori jarak: 6k
Informasi lomba: https://instagram.com/fkunairdekancup
Registrasi lomba online: http://linktr.ee/fkunairdekancup
Registrasi lomba offline: Jalan Prof. Dr. Moestopo no 47, Surabaya, Indonesia
Kontak person registrasi lomba: 087850661176
Jika ada informasi yang tidak akurat atau perubahan lomba mohon untuk menginformasikan kepada kami.