5K Charity Fun Run for Depression in RIBBON RUN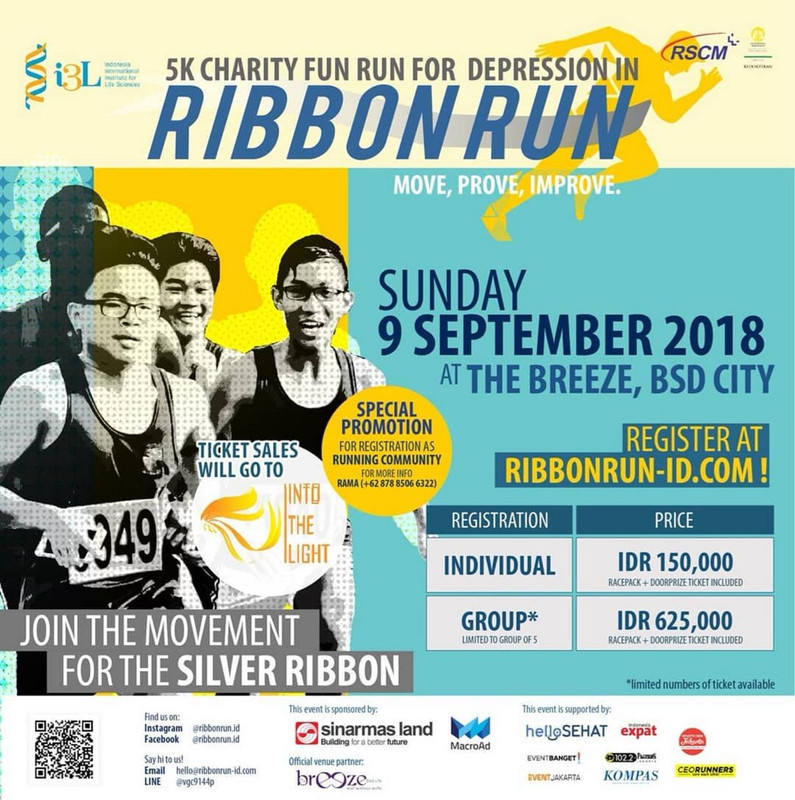 Join our movement to raise awareness of mental health in RIBBON RUN 2018: 5K Fun Run For Depression!
Sunday, 9th September 2018, at The Breeze BSD City! 🙌
REGISTRATION
Individual: IDR 150,000 per person
Group of 5: IDR 625,000 per group
All prices inclusive of race pack + doorprize ticket 🙌🙌
Register NOW at ribbonrun-id.com/register
CALL FOR RUNNING COMMUNITY! 😊
Contact RAMA (+62-878-8506-6322) to register as a Running Community and get a special promotion price! 👍

Follow our IG @ribbonrun.id and stay tune for more info!

Best Regards,
-Student Council of i3L 2017/2018-
Indonesia International Institute for Life Sciences (i3L)

follow us on:
- Official LINE account @xsc2376n
- twitter @SCi3L
- instagram @I3LStudentCouncil
Kategori jarak: 5K
Informasi lomba: https://ribbonrun-id.com/
Registrasi lomba online: https://ribbonrun-id.com/
Jika ada informasi yang tidak akurat atau perubahan lomba mohon untuk menginformasikan kepada kami.